Understanding Facebook: What is your Profile Page?
Your profile, which includes your Timeline, is where your collection of the photos, stories, and experiences you've had can be viewed by your friends. Add a status update, change your profile and cover photo, view all the activities you've done on Facebook or edit your basic information, these are all things you are able to do from your Profile page.
Access your Profile by clicking on your picture or name at the top of any Facebook page, or at the top of your Favorites section on the left from home page.

By clicking on "Update Info", found on the Cover Photo, you can add/edit your personal information such as: Work and Education, Places You've Lived, Contact and Basic Info, Family and Relationships, Details about You, and Live Events.
"View Activity Log" allows you to view all of your activity on Facebook.
This includes posts that you have liked or commented on, things you have shared, posts or photos that others have tagged you in, plus so much more.
Only you have access to your activity log and it is a great way to keep track of your Facebook experience.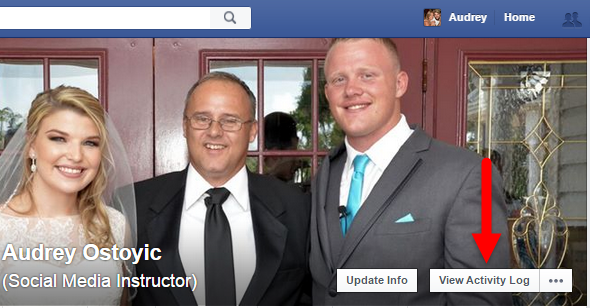 Options immediately beneath the Cover Photo: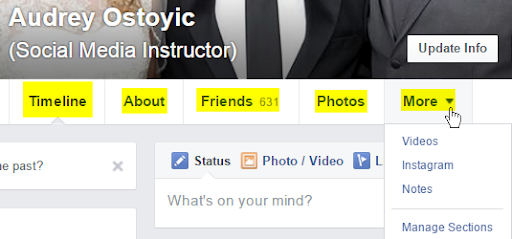 Timeline: Displays all the updates, links, photos and videos that you have shared and that others have shared with you.
About: (Takes you to the same place that Update Info does)
Friends: Displays the people that you are friends with.
Photos: Give you access to view all of the photos that you have shared (Your Photos), photos that you have been tagged in (Photos of You), and photo Albums that you have created.
Just Getting Started on Facebook?