Understanding Facebook: What is the News Feed?
Your News Feed is that middle section located on your Home Page. This is where you get to see what your friends are up to, what sort of sales and information your favorite Businesses are sharing and where you, yourself can make a status update that will go out into the news feed of all of your friends.
Finding your News Feed is pretty easy. Whenever you log onto Facebook or click on the Home button you'll always have your News Feed located right in the middle of the page.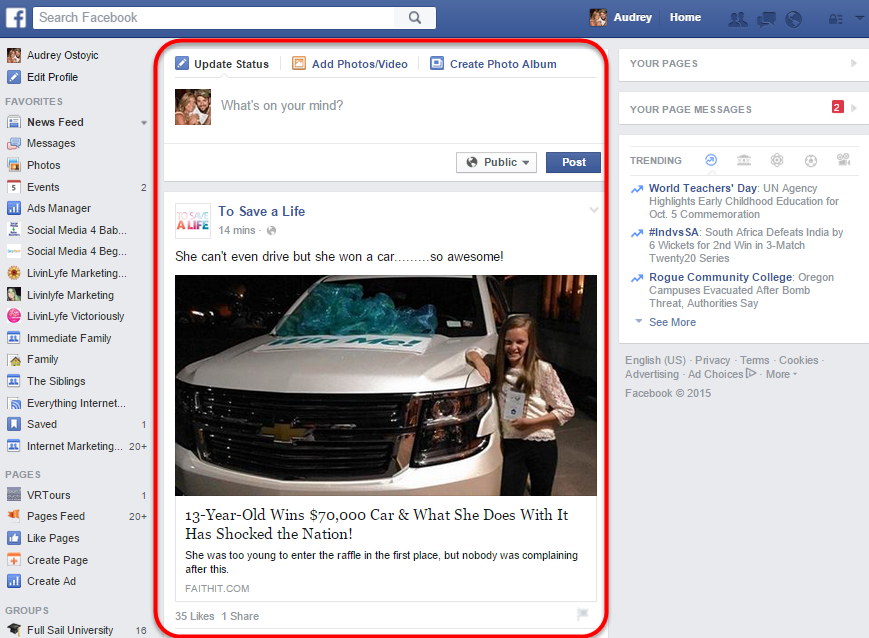 Customizing Your News Feed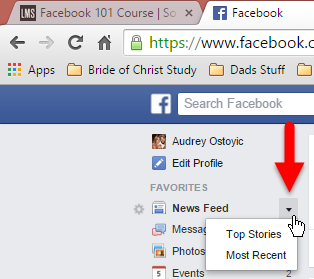 By clicking the small arrow next to the word News Feed in your Favorites bar, you can choose to sort your News Feed by Top Stories or Most Recent.
Top Stories are posts from friends or pages that are receiving the most actions such as people liking, commenting or sharing that particular post.
Most Recent is just that, the most recent stories from friends, regardless of interaction. Many people prefer Most Recent as it is less likely that you will miss updates that are important to you.
Customize your News Feed even further by clicking on the arrow at the top right corner of any of your friend's post. (See Image)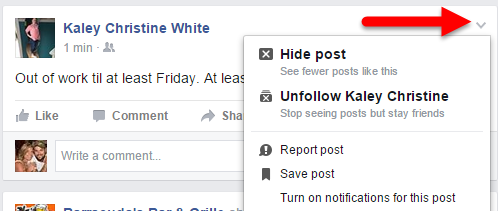 You now have several options:
Hide Post – This lets Facebook know that you want to see fewer posts like this one.
Unfollow Friend – This prevents you from seeing this person's posts in your News Feed, but allows you to remain friends with them. The person is not notified if you have unfollowed them. You can always begin following them again at a later date.
Report post to Facebook – By reporting a post, you'll make Facebook aware that the post may violate the website's terms.
Save Post – This feature allows you to save that post to come back to at a later time.
Turn On/Off Notifications – This feature allows you to receive notifications on a post, pictures or videos you have liked or you can stop getting notified every time someone adds to the conversation.
Just Getting Started on Facebook?