What is a home page?
Your Home Page is where the majority of the action happens. Whenever you first log-in to Facebook you're always brought to your Home Page. This is where you write your status updates, view your News Feed, Instant Message friends and are able to quickly jump to the different areas on Facebook.
You can always get back to your Home Page by clicking, "Home" at the top.
Search bar to search for people, friends, photos, music, etc.

Find Friends (Might go away once you've been on Facebook for a while)
Notification Icons (left – right)
Friend Requests

Private Message

General Notifications
The lock is access to Privacy Settings.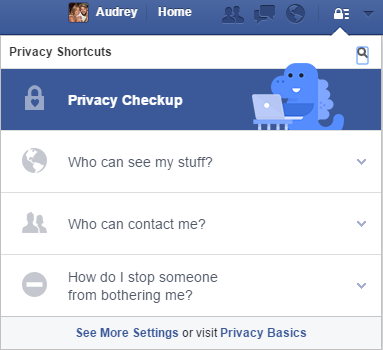 Drop down arrow will give you access to other actions.
Left side menu: The left navigation bar is completely customizable with your 'Favorites' located in the top section. You can add any item from the left menu to your favorites by hovering over it, clicking the cogwheel that appears to the left and clicking on Add To Favorites.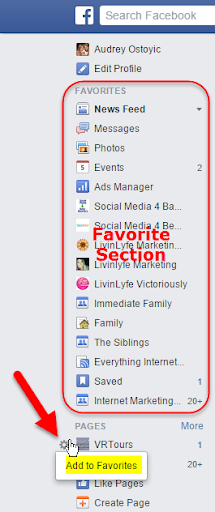 Common Items founds in Favorites:
News Feed – This is where you can see what your friends and family are up to
Messages – View, Read, Reply and Compose Private Messages.
Photos – Jump to all of your photos found on Facebook
Events – View events that you have been invited to, rsvp to those events and even create your own events.
Under your Favorite Section you'll find:
Apps you use frequently

Groups you have joined.

Friend Lists you may have created.

Interest Lists

Pages that you may manage on Facebook

Events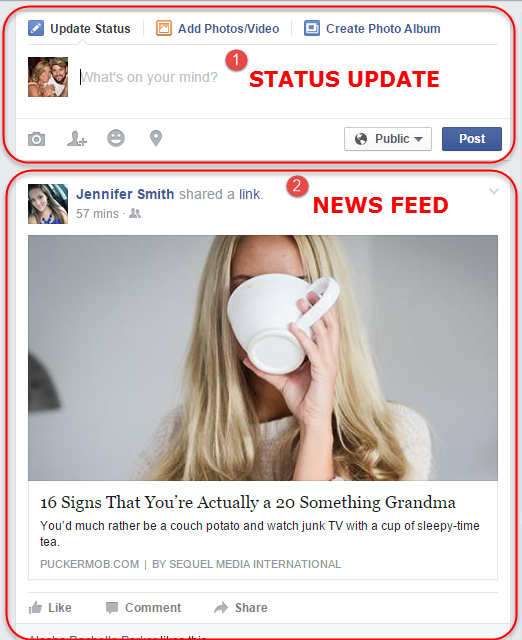 Middle of Home Page
1. Status Update                                This is where you can update your status, share links, videos and photos.
2. News Feed 
This is located beneath your Update Status box and can be explored by simply scrolling down. This is where all of the shared content that your friends or companies that you have liked will be displayed.
Right Side of Home Page
Trending column: This is information that Facebook has decided to show you based on popularity.
Chat Window: If you choose to have your chat window open to view those that are online then this is where it will be located, all the way to the right.
Just Getting Started on Facebook?