How to Make a New YouTube Channel
In order to make a YouTube Channel you first have to be signed in to your YouTube Account. Remember, by creating a YouTube Channel you're unlocking the ability to create playlists, comment on videos and upload your very own videos, only if you want to of course.
From your homepage, click on 'Upload' at the top right, next to your profile picture.
A box will pop up, prompting you to create a channel. It will use the name you signed up with by default and that will be the name of your YouTube Channel.
If you are okay with that, click 'Create Channel'. If you would like to change the channel name, click on 'Use business or another name'. Type in the desired name of your channel and select the category of the channel you are creating.
Check the box to agree to Terms after reading them, of course, and click 'Done'.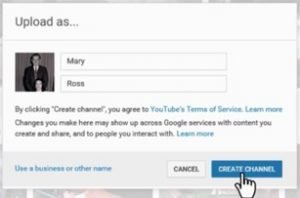 You have created your Channel! You may now upload videos to your Channel if you would like, but this is not necessary.
You may notice that your Profile Picture on the top right is now gone. This is because your Channel is separate from your account, which has your profile picture. If you would like to add an image, follow these steps:
Click on the "Menu" icon at the top left
Click on My Channel
Hover over the Image within the channel and click on the Pencil that pops up
Click 'Edit'

You will most likely need to Upload an Image at this point, though you may choose to take a photo with a web camera if you have one connected.
If you are uploading a photo, you have the ability to edit it before setting it as the Profile Picture.
Click 'Cancel' to avoid posting to Google+ about changing your profile picture.
If you would like to personalize your Channel, even more, you can add 'Channel Art'.
Click "Add Channel Art".

If you don't have an image in mind, you can use YouTube's Gallery and browse their selection.
Once you have a picture, just click 'Add' and now everyone that views your Channel will see the art.
Congratulations! You now have an Official YouTube Channel!
Just Getting Started on YouTube?