Audience Selector Tool – Using this tool gives you the control to choose which friends see what you post or share. You can choose to share with close friends, just friends, the public or even choose who you don't want to see the post. 
Wondering who sees your post, photos, videos and links you share? Every time you update your status, add a photo, or share anything on Facebook you have the control to choose who sees it by using the Audience Selector Tool.
Start off by clicking in your Status Update box. A box will appear to the left of the Publish button. Clicking on the box will bring up a dropdown menu. Your selections in this dropdown is your Audience Selector.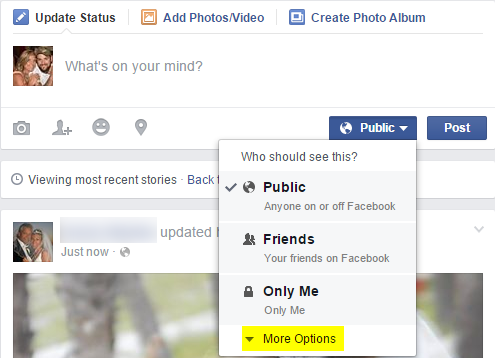 Public – Means anyone on Facebook can see, like, comment or share the post you are about to make. This also includes those that might not even have a Facebook account.
Friends – Only your friends are able to see what you are about to post.
Only Me – Self-explanatory, only you can see it.
More Options:
Friends except for Acquaintances – This will only share with your friends who are not just acquaintance
Custom – Gives you a finer amount of control over who, within your friends, will be able to see the post. You can select just a few people to be able to see it or even exclude certain people from seeing it
Lists – Share with certain Lists you have created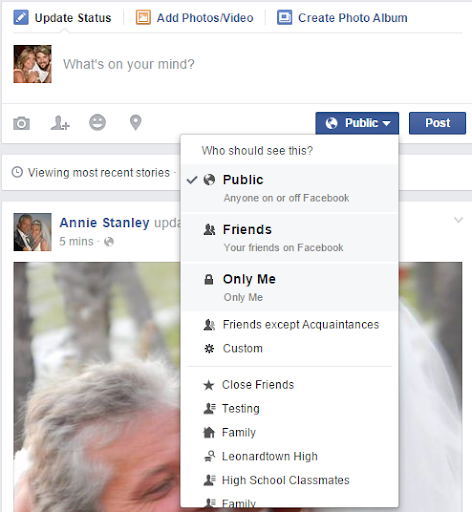 NOTE Facebook will 'remember' your most recent Audience Selector preferences and continue to use it until you change it.
View the audience selection on every post in your news feed by looking at and hovering over the icon next to the timestamp of posts.
Just Getting Started on Facebook?