A Touch Screen Stylus Pen – The #1 Accessory EVERY Senior Needs For Their Device
What is a Stylus Pen for Touch Screen Devices?
I could give you the technical definition of a stylus pen but I think it's best if I put it in my own words. A Stylus Pen works by touch or pressure, rather than actual ink and is an instrument that allows me to precisely tap on my screen to make my tablet or smartphone complete a task I want it to do. For instance, if I wanted to select my Facebook app the stylus pen allows me to do so without accidentally opening another app by touching on it. It also gives me the ability to write or draw on my touchscreen using apps that will turn your iPad into a really cool drawing tablet.
Stylus Pen's work on all sorts of devices like the iPad, iPhone, Android and Samsung and will work on e-Readers like the Kindle and Nook.
Your Need for a Stylus is Greater Than You Think
If you suffer from:
Eye-hand coordination that isn't what it use to be
Arthritis
Fat fingers
Neuropathy
Decreased dexterity
The effects of a Stroke or anything else that may hinder you from using your fingertips to touch the screen.
Then you definitely need a stylus pen so that your time on your tablet or phone will be more enjoyable.
A Stylus pen will give you a better level of use and functionality because they are more accurate than your fingertips.
Plus they are super simple to use and allow you to effortlessly scroll through web pages and accurately choose tasks you want to perform.
Not all Stylus Pens are the Same
Stylus Pens come in all sorts of shapes, sizes, and colors and are used for many different purposes.
I mean, you have those that work great for drawing – those that have small nibs and large nibs – those with thin and wide grips – those that have tips/nibs that are replaceable and those that dual between the stylus pen and an ink pen.
With so many different stylus pens out there how is one supposed to choose what is right for them?
Read the description, the questions and the reviews of the pen before you purchase it.
When choosing my pen I read the reviews for each pen and was able to determine which one would work with my iPad Air 2, iPad Mini and my iPhone 6S Plus along with my Samsung Tablet.
This is what you'll want to do also because some pens I found were not compatible with all four of these touch screen devices.
For the sake of this article, I only wanted to focus on Stylus pens that would benefit those aging adults that may be having trouble using their fingertips to choose things on their touch screen tablet or phone.
There are stylus pens that are specific to those that are looking to draw, sketch or design concepts on their iPad like these fine point pens here.
4 Top-Rated Stylus Pens for Seniors
(Remember to Read the Reviews before you purchase anything – this will help you to choose the pen that is right for you)
Save
1. Cosmonaut – Wide-Grip Stylus for Capacitive Touch Screen Tablets

4.3 out of 5 stars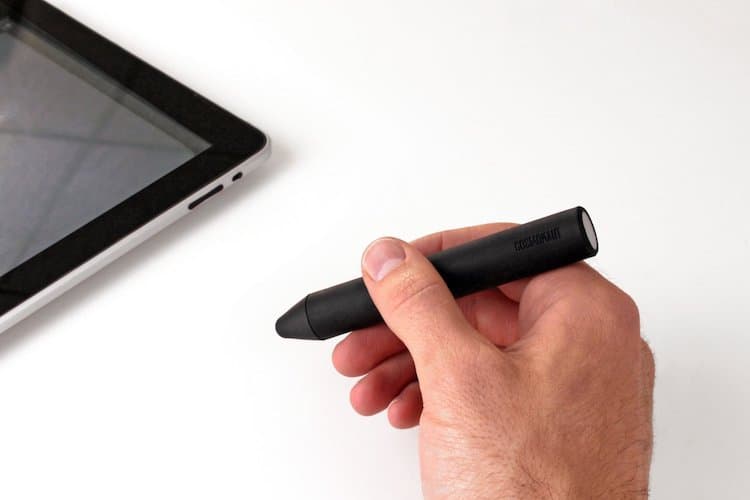 With its wide grip and durability, the Cosmonaut Stylus is the perfect shape, weight, and length for the elderly who owns a tablet, smartphone or e-Reader. Not only does it have precision touch but many have said that it is the best on the market.
Known to work with: iPad Pro, iPad Air, iPad Mini, iPhone, Surface, Kindle Fire
Tips/Nibs Replaceable: Yes
Size: 5 x 0.9 x 0.6 inches
Weight: 1.4 ounces
What others are saying about these stylus pens:
Great for Stroke Survivors
Best on the market
Bought this for my 72-year-old mother – she doesn't have arthritis but had problems using a regular stylus as of late and this did the trick.
2. elago® Stylus

4.1 out of 5 stars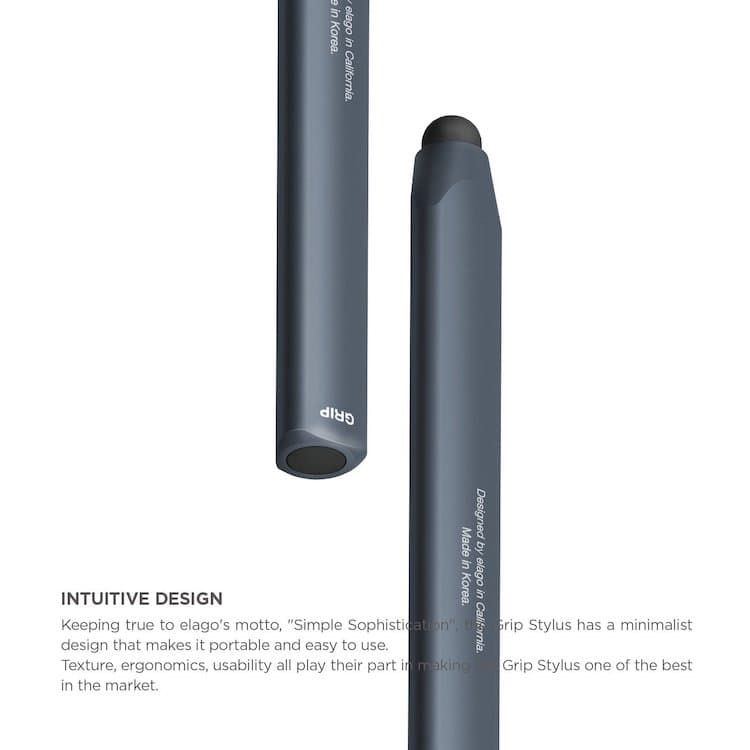 This stylus pen is great for note-taking, drawing and is a lot like writing with a real pencil but with a much more comfortable feel to it. The tip on it allows you to write at whatever angle you hold it at, the contact is great and its precision is on point.
Known to work with: iPad Pro, iPad Air, iPad Mini, iPhone, Android Devices, Surface, Kindle Fire
Tips/Nibs Replaceable: Yes
Size: 5.8 x 4 x 0.3 inches
Weight: 0.6 ounces
What others are saying about these stylus pens:
The Best Stylus Ever
Great contact and writing on iPad
This stylus is WONDERFUL. It's thicker and more solid than those tiny/thin stylus you see in the store
3. Stylus Pens – 2 in 1 Touch Screen & Writing Pen, Sensitive Stylus Tip
4.7 out of 5 stars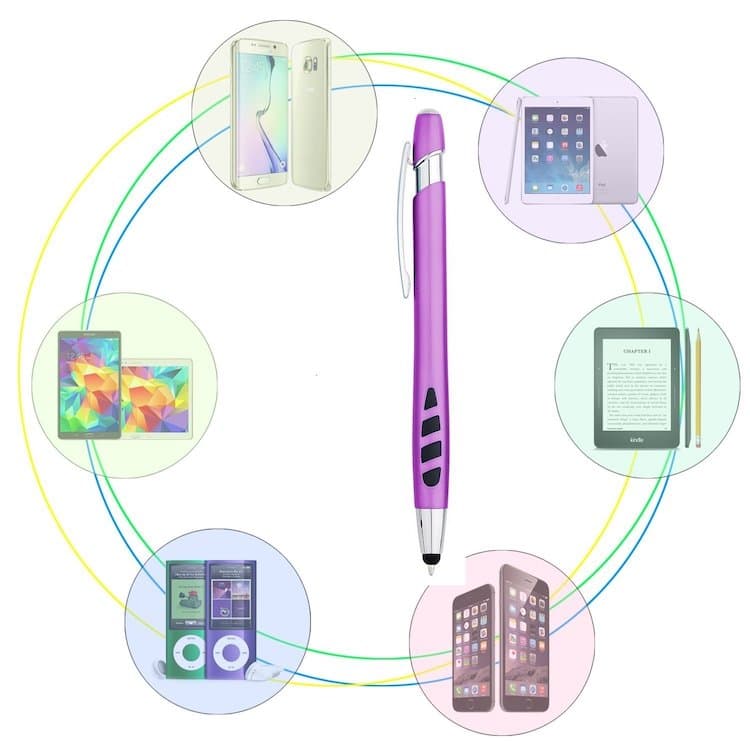 Now you can get more bang for your buck with this 14 Pack stylus pens. The tips on these pens can be changed out so you can use it on paper, a tablet or your phone.
You can also click back and forth between the stylus pen or the ballpoint pen it comes with. With many different color options, you're sure to always have your favorite color on hand.
Known to work with:  iPad, iPhone, Kindle, Nook, Samsung Galaxy & More
Tips/Nibs Replaceable: No
Size: 8 x 4.8 x 1 inches
Weight: 4.8 ounces
Any special software required: No
What others are saying about these stylus pens:
You just can't go wrong with these…
Helps eliminate misspelled words
No need to look for a pen when using the stylus
4. 3-pcs Stylus Pen 5.5″ with Replaceable Thin-Tip – Universal Capacitive High Precision Styli + Replacement Tips, Elastic Lanyards + Cleaning Cloth
4.6 out of 5 stars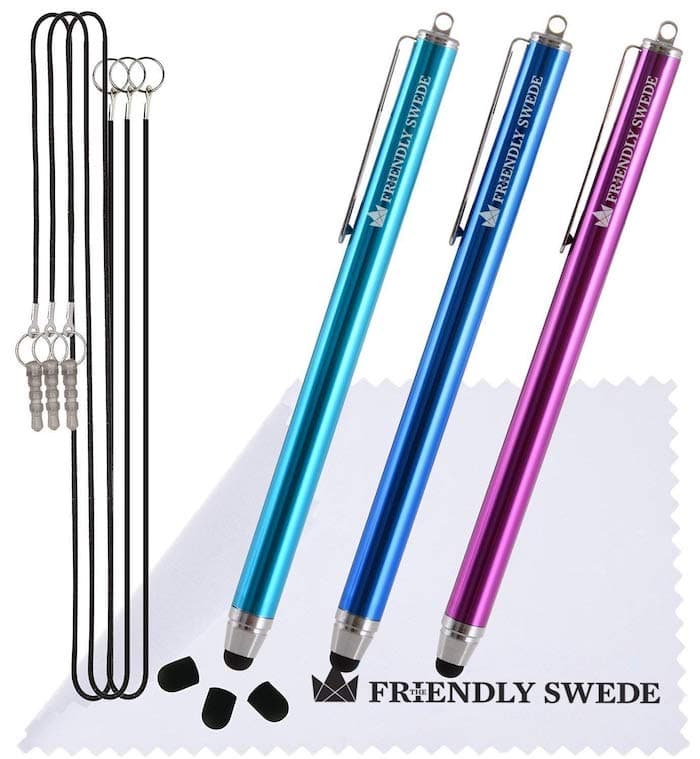 Did you just read that title for this pen? I mean look at all the EXTRAS you get with this 3 pack bundle. 3 extra tips, a lanyard plus a cleaning cloth. These pens come with a Lifetime Warranty from The Friendly Swede Company and is a must for your device arsenal.
Known to work with:  iPod, iPad, iPhone, Samsung Galaxy phones and tablets, and Kindle Fire. Is compatible with all capacitive touchscreen devices. 
Tips/Nibs Replaceable: Yes
Size: 7.9 x 3.9 x 0.4 inches
Weight: 1.6 ounces
Any special software required: No
What others are saying about these stylus pens:
Perfect "weight" for my preference. Tethered, so no more lost styluses in my couch!
Vibrant colors with options to customize the tips to your liking!
I love them! I like the fact that there is the cord that I can attach to things so I don't lose them!
As I mentioned before there are so many different styles to choose from. Remember to read the questions people ask on each of these listings as well as the reviews before you purchase. The above stylus pens are recommended by those seniors or loved ones who bought these for their loved ones and have had wonderful testimonies of using them.
Do you have a Stylus Pen that you use that wasn't listed? If so, let me know in the comments below what you're using and I can add it to this list.
Remember, we're all learning together!
Ya'll Be Blessed,
Audrey