Alexa for Seniors – Practical & Fun Ways for Seniors to use Alexa and stay connected to family and friends

The other day I had a conversation with a dear friend of mine, Rose, from Assisted Living Made Simple.
You see Rose, helps families find their loved ones forever homes whether that be in assisted living, independent living, or even a dementia care facility. But Rose goes above and beyond and will help your loved one even after she has found them that perfect place.
She was telling me about helping one of the elderly residents in an assisted living facility set up Alexa on her Amazon Dot and how these little devices can help seniors so much in their everyday life.
When she started naming off all the benefits the Amazon Echo brings to seniors, it blew my mind.
Why in the world did I wait so long to get one of these?
You see, if I'm being honest with you, I never wanted one of these devices in my house because I know big brother is listening in on the conversations. Not that I have anything to hide but, your home is your one place of refuge, the one place you should be able to speak freely and I just didn't feel comfortable with everything I was reading and hearing about it.
However, in researching the Amazon Echo, I did find out how you can turn Alexa off from listening in as well as hide the camera from her.
What is Alexa and what are some of the things can she do?
Let's see if I can explain Alexa in non-techy terminology for you. 😉
Alexa is the name of the computerized voice that Amazon uses for its products such as the Amazon Echo answers questions you ask it or helps you fulfill the task you give her.
Well, almost any task you give her. 😉
She is basically like a virtual assistant, except, well she is a computer program so she can't clean your house or cook for you.
But she can find you the best cleaning supplies and delicious recipes if you ask her too. 😉
Just be sure to call her Alexa and not some of the other names that people come up with. Names like Alexis, Alexander, Alysa, Amanda, Allegra, and many other names you'll find in this video titled SNL Alexa for Seniors.
When it comes to what Alexa can do, boy does she have some skills.

No, I mean it. Amazon actually calls the things that Alexa can do, skills. Skills are voice-driven Alexa capabilities. You can add Alexa skills to your Echo to bring products and services to life. They would be what we call apps on our phones and tablets.
These Amazon Skills allow you to:
The list of Alexa Skills is growing by the day and will do nothing but continue to grow.
According to statista.com:
Growth of Amazon Alexa skills from 2016 to 2019. In a little over three years, Amazon's Alexa has gone from having 130 skills to over 100,000 skills as of September 2019
One of the other great things about Alexa is…she's FREE. There are no monthly fees whatsoever to use Alexa and her skills.
So how can this little device help our elderly loved ones stay connected, combat loneliness, and help them have a more fulfilling life?
15 Ways Alexa can help the elderly (speaking to the kids here)
Reminds them to take their medicine – this is so important, especially for those that are staying in place in their own homes. 
Wakes them up – I heard a gentlemen say that the best thing about Alexa is she wakes him up in the morning. 🙂
Plays music for them – this right here is one of the best things ever. To be able to ask Alexa to play the music from their era wakes the brain up, brings back fond memories, and allows them the opportunity to go back in time…if only for a song. 
Listen to talk radio – this is going to be my Dad. If your parents or grandparents love talk radio then all they have to do is ask Alexa to play it for them. 
Tells them jokes – for those that may be at home alone all day, a good joke can get them laughing and we know that laughter is good for the soul. 
Finds local events and will schedule them for it – this one is pretty cool. If your loved one is still getting around and loves to explore local places and events, they can ask Alexa to find these events and fill out the form for them. All hands-free!
Calls their loved one – no more having to find their phone to call you. They just have to tell Alexa to call and she'll do it for them. This is so important especially if your loved one takes a fall and can't get to their phone. They can at least call someone for help. 
Makes list – groceries, to-do list, etc.
Checks the weather for them – not only can they check the local weather but they also love checking the weather where their children and grandchildren live. 
Turn their lights off and on – this only works if they have other smart house items but this is great for those late-night trips to the bathroom. 
Can make video calls for them – only if you have the Amazon Echo Show
Allows loved ones to check in on them – not gonna lie, this one is kinda creepy but I guess creepy in a good way. Drop-in is the skill that allows you to drop in on your loved one to see how they are doing. 
Reminds them of upcoming Doctor appointments – when they can't keep up with their doctor's appointments and neither can you, Alexa to the rescue for you both. 
Find's their phones – you don't even have to be elderly for this one to be a huge benefit. lol
Acts as an intercom system – are you the primary caregiver for your loved one and living with them? Then this is perfect for you and them. As long as you have an Amazon Echo in each room they can use it to get a hold of you from another room. This could be a good thing or a bad thing though. lol
Which Alexa is best for seniors?
When choosing the perfect Amazon Echo device, you'll want to answer some questions first.
Be sure to really think about how this little device can help your loved one and then make an informed decision when purchasing it. 
The Echo Dot is a great starter speaker with Alexa if you're looking for the simple skills Alexa offers. It's an extraordinarily useful and versatile device that allows the elderly to get acquainted with this new technology. However, if you're looking for that great sound for music and podcasts you might want to consider the Echo Studio or another speaker system.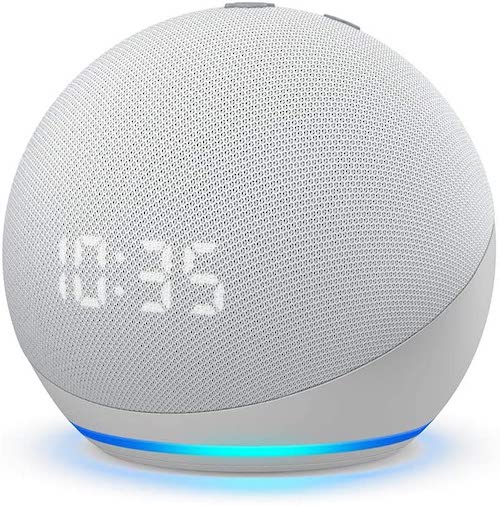 Amazon Echo Dot (with clock)
The all-new Echo Dot with the clock is Amazon's most popular smart speaker with Alexa. This sleek, compact design delivers great sound and can be put in so many places.
Perfect for your nightstand – See the time, alarms, and timers on the LED display. Tap the top to snooze an alarm.
All-new Amazon Echo (4th Gen)
Want to step it up a notch? Then the Amazon Echo 4th Generation will be your cup of tea. The speakers are much crisper for playing music, listening to podcasts, or listening to a book from Audible.  Plus it's got a built-in Zigbee smart home hub, and a temperature sensor!
Who needs a high dollar speaker when you can have this impressive speaker with Immersive sound – 5 speakers produce powerful bass, dynamic midrange, and crisp highs.  Although this is bigger in size than the Echo and Echo Dot it packs a punch with its sound. 
Amazon Echo Show - With Video Calling
For those that want to be able to see their loved ones through video calling and be able to "drop-in" and check on them then you'll want to check out the Shows!
They range from 5" (inch) to 10.1" (inch) displays with the larger display having more speaker space.
Echo Show 5" With Video Calling
What a wonderful way to be able to stay connected with your family and friends. Never miss a moment again with the Echo Show. Not only can you see family and friends but you can also watch shows, movies, news, and so much more. 
Echo Show 8" With Video Calling
With a slightly larger screen, the Echo Show also allows you to see your security camera, use it as a digital photo frame, or even view and edit your calendar. Just so you know you can do all of this on any size Amazon Echo Show. 
Echo Show 10" With Video Calling
You know how our phones started out really small and have grown over the years? I feel like that is what's happening here. We're almost at a TV screen size. 🙂 If you do have trouble seeing the screen though, this larger Echo Show will help you tremendously!
There you have it. When it's all said and done the Amazon Echo with its virtual assistant Alexa is bringing innovative ways for the elderly to overcome loneliness and stay connected with their family and friends.
GOT QUESTIONS? HAVE COMMENTS?
Leave down below and share them with us all.