I'll never forget the scene in the movie "The Notebook" where Allie who suffers from Alzheimers in her older years and Noah, dance to a song that was back in their era. Allie, remembers Noah, if only for a moment, and they dance together one last time before her memory is lost again.
If you haven't seen the movie, go right now and watch it!
It's the ultimate love story and one that reveals what Dementia and Alzheimers does to a person and their loved ones.
Below is the scene I'm talking about though.
UGH! That scene gets me every time.
You might be wondering what a movie has to do with a music player for elderly. Just keep reading and you'll understand…I promise!
Well, it just so happened that I had an opportunity to be with a very dear friend of mine when she had to place her Godmother in a different Assisted Living Facility.
While at the new home, there was another resident that had this radio her son bought her that was programed with her favorite music on it.
Her son was showing us how all his mom had to do was lift the lid to start playing it and close the lid to shut it off. He told us that he was able to control the volume and set it at just the right place, plus it had one button that she could push to change the genre of music.
He proceede to lift the lid and the music begins to play.
Oh the look on his mom's face! PRICELESS!
Her face lit up, her eyes came to life and she was in the moment. I felt so bad when he closed the lid but he wanted to show us how the music stopped but when he opened it again the music began playing at the very spot it had stopped.
He explained that all he did was use a USB cable and downloaded her favorite music onto this radio and now all she has to do is lift the lid to be transported back in time.
Working with the elderly and teaching them how to use all this new technology and Social Media sites, I see first hand the fear and frustration they have. But with this little player that can play the genre of music for those elderly that may be experiencing memory loss is heartwarming and exciting.
For me, I came right home and started researching these radios. I also called my Dad and asked him if he had seen one and he had not. He did however, put something like this together for one of the residents in the Retirment Home he lives at but it was through YouTube.
[Sidenote: In the Free YouTube for Beginners Course we offer here I do show you how to create a playlist of your favorite songs. These songs can then be set to play continually]
Below are two music players for those seniors that may be battling memory loss through dementia or Alzheimers.
As of right now there are not too many of these music players for the elderly so the pickings are few. Hopefully in the near future we will have other companies that start offering these much needed radio players with even more functions and versatility.
Simple Music Player for Dementia & Alzheimer's Patients
The Simple Music Player – MP3 music box for Alzheimer's and dementia
RATING: 4.4 ouf of 5 stars
This is  the exact one that the resident's son got for her. This fire engine red seems to be the most popular color which is completely understandable.
Features Include:
4GB memory (holds between 1000 1,5000 songs)
Comes already loaded with Big Band tunes which you can delete
Well over 50 hours of playing time
Ability to use headphones
Can also play audio books in MP3 format
Electric Operated so no need for batteries
Volume controls on bottom that you control for dementia patients
One-button to advance to next song
Lift the lid to start the music playing and close the lid to stop the music
The Simple Music Player in Action

Music therapy with the elderly and as part of dementia care helps people to have an emotional sense of continuity and consistency
One Button Radio for Elderly Loved Ones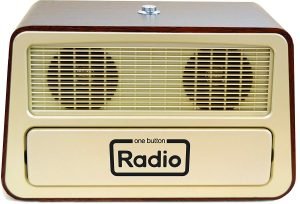 Memory Loss One Button Radio/Large Analog Retro Style Dementia Radio
RATING: 4.1 ouf of 5 stars
The One Button Radio has been designed for anyone to enjoy especially those with Dementia, Alzheimer's, Memory Loss, Poor Dexterity or Visual Impairment
Features Include:
Uses an external USB stick which you would need to have
Can also play audio books in MP3 format
Electric and Battery Operated
Volume controls on bottom that you control for dementia patients
One-button to turn on and off
Preset favorite AM/FM radio channel or use the USB Stick
These music players were the only ones I could find that had great reviews and were strictly geared toward the seniors that have dementia and Alzheimer's.
Is there one that you have used and had great success with your loved ones?
I would love to hear about it in the comments below! If it's something that could benefit our readers I will add to this list.
Be Blessed,
Audrey