What better way to find the best gift ideas for seniors in your life than to have your Dad, who just happens to be a senior himself and lives in a retirement home, to help you on this quest.
I really wanted to find out from the senior themselves what has been the best present you have received from a family member or friend.
After asking lots of seniors this question I was finally able to put together this extensive list of all their favorite gifts.
I will say that above everything you could possibly buy them, the gift of time is the most valuable, precious gift you can give them. 
I hope you enjoy and are able to find a present for your loved one.
I've separated these gift ideas into different segments so if you click on one of the links below it will quickly take you down the page to that specific topic.
Tablets
Tablets are the perfect gift for that senior in your life. Whether you live right around the corner or thousands of miles away, a tablet can be so beneficial to not only your loved one but also to you.
With a tablet they can:
Stay Connected to you through Skype and Video Calling
Play games that help with keeping their mind sharp
Read their favorite magazines or books online
Meet new people that share the same interest
Check the weather
Check their email
Stay connected to family and friends using Social Media
Listen to music or an audible book
The possibilities are endless!
Oh and if you think Seniors don't use tablets you're wrong. Roughly a third of all seniors own tablets and that number is only growing.
If you do buy the senior in your life an iPad and it's their first one, be sure to check out our iPad Course that will help walk them through setting it up and operating it.
E-Readers
Kindle or Nook – If reading books is a favorite thing for the senior in your life to do then you might want to consider getting them either the Kindle from Amazon or the Nook from Barnes and Noble.
Although the tablets do allow you to read books and listen to the books audibly, there are thousands of people that LOVE their eReader.
This is because the Kindle and Nook are all about reading, whereas the tablet is more for entertainment.
All the reasons why you may want to buy an eReader as a present for the senior in your life over the tablet:
Battery Life – this alone should make you say yes
The more natural reading experience
Can be read even in direct sunlight
Far less likely to cause you headaches or, more seriously, damage to their eyes
Keeps you focused on the book and not being interrupted by other apps
You have the option to choose from an 8GB or 32 GB storage space that holds magazine, books, comics, and even audiobooks.
The other really cool thing with these E-Readers is the fact that you can pair it with Bluetooth speakers or headphones and listen to your story.
A single battery charge will last you weeks and not just hours, plus with the built-in adjustable light, you can read indoors, outdoors, at the beach, day or night.
Smart Phone
Smart Phone – Did you know that 4 out of 10 seniors have a smartphone? Just look around the next time you are out and about and I guarantee you'll see these seniors on their phones. I'm seeing it more and more, especially going into these local Assisted Living Facilities.
If you do decide to buy your loved one a smartphone do me and them a favor. Give it to them and teach them how to use it. Instead of setting up the phone, allow them to do it so they can get used to it.
Or set it up and then show them the basics of what they can do with it but let them do it. This is something I see all the time.
Seniors get their phones and have no idea how to use it. Or land on a screen and can't get back to where they were because their son or daughter did everything for them.
You can either get these phones at the service provider you are with or purchase one from Amazon.
Amazon Echo
Amazon's Echo, Echo Dot – Amazon's Echo is the perfect gift for the elderly. From reminding them to take their medicine to listen to music with just a voice command. 
Of course, if you've never seen this video from Saturday Night Live that shows seniors using the Echo with Alexa, you've got to check it out now. Be prepared to laugh your butt off.
Ok, enough with the laughs. 
The echo really is a great present for seniors and here's why…
Make phone calls with just their voice command
Quickly check the weather
Get the Date and Time Fast
Listen to the News
Be reminded when to take medicines
Create and Maintain To-Do Lists
Keep the mind sharp by playing trivia games
They can listen to audiobooks
If they have the Kindle they can have Alexa read a book to them
Alexa can help alert you if your loved one needs help
As you can see the Amazon Echo with Alexa will not only give your loved one the ability to do things for themselves, it will also give you peace of mind that they are okay.
Amazon Firestick (Fire TV STick)
Firestick –  The first time I ever heard about this little device was when my sister came to visit me and had this with her. She plugged it into my television and instantly had access to her Netflix account, Amazon Prime movies and music and all sorts of other apps she had downloaded.
I was blown away and just had to get me one of these.
Today I have 4 Amazon Firesticks on my T.V.s and whenever I travel now I'll take one with me so. It's like bringing a piece of home with you in a sense.
The Fire TV Stick is the #1 best-selling streaming media player, with Alexa Voice Remote.
You can launch and control content with the Alexa Voice Remote. Watch favorites from Netflix, YouTube, Prime Video, STARZ, SHOWTIME, or CBS
If you are an Amazon Prime member you get unlimited access to thousands of movies and TV episodes plus ad-free listening to millions of songs with Prime Music.
Your elderly loved one doesn't have to have cable or satellite to use the Fire Stick but they will need WiFi.
Digital Photo Frame
Digital Photo Frame – When I visit the Assisted Living Facilities and get a chance to see the resident's homes one of the things I see all the time is a Digital Photo Frame.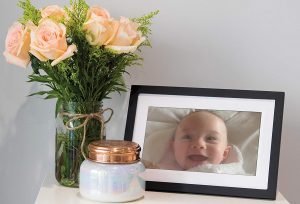 This photo frame is loaded to the max with pictures of loved ones still here and those that have gone on before them.
Seniors love to reminisce and share stories of each of those pictures and what an amazing thing to see throughout the day.
Of course, these photo frames have come a long way and have dropped quite a bit in price over the years.
You have frames that now come with a calendar and clock function so the senior not only has photos playing constantly, they also know the date and time.
Item Locator
Item Locator – If we're being honest, I think everyone could use one of these. Lol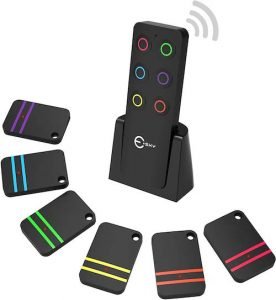 If you are looking for a gift though for an elderly friend or loved one, this would be a very thoughtful gift – no pun intended.
From keys, dog leashes, purses, and phones to wallets, pens and remote controls, the elderly will never have to question where anything is again.
Just hit a little button and wait for the sound or the light to go off and instantly find the lost item.
Fun & Practical Gifts for Your Elderly Loved Ones
Lap Blankets (Weighted or Fluffy)
As we get older our bodies become more sensitive to the cold. Our metabolic rate decreases, our skin thins, and our bodies are just not able to generate enough heat.
This is why a nice fluffy lap blanket is a practical gift for a senior. Especially if you have a loved one in an Assisted Living Facility or a place where they are not able to control all areas of the place they are living in.
Weighted blankets –  A-weighted Blanket is another wonderful gift idea for the elderly. Weighted blankets are cozy, heavy bed toppers that quiet the nervous system, aiding in better sleep and offering anxiety relief.
These blankets can be used day or night, summer or winter and will help your loved one keep warm and have a good night's sleep.
One thing to be cautious about when purchasing a weighted blanket for the elderly is the weight of it. Some elderly patients do not have the strength to remove a heavy blanket.
You'll want to make sure that if you do purchase this as a gift for the senior in your life that they will be able to get it off of them with no help.
Automatic Pill Dispenser
Having an Automatic pill dispenser that helps with medication management is a must for caregivers and those that may be experiencing the onset of dementia or alzheimers.
With an automatic pill dispenser it gives the patients the ability to stay independent and the caregiver the peace of mind to be able to monitor & administer the right medications at the right time. Having an alarm that it has, it makes it almost impossible to "forget" to take the medicine.
The LiveFine Automatic Pill Dispenser has a 28-day medication organizer that allows 6 dosage template with an LCD display that is easy to read.
This isn't just a great gift idea for the senior in your life, it's a great thing to have as a caregiver also.
Readaeer Bamboo Reading Stand Holder
With a 4.8 out of 5 stars you know this reading stand is sure to put a smile on your loved ones face.
If the senior in your life loves to cook and be in the kitchen then this would be an amazing gift idea for them. Whether they have a cookbook or their tablet, this reading stand holder will hold them both. No more having to keeping looking for your cookbook on the other counter.
Or even if they love to just read, this bamboo book stand will do the job. Give those arms a rest and read to your hearts content.
Plus you can adjust it to five different angles, so that you maintain the correct posture and keep your spine healthy.
When not in use this book rest will conveniently fold down flat so that you can easily carry it in a mid to large-size bags or backpacks.
This versatile book display stand can be used on office,a desk, kitchen countertop, lap or in a bed and features non-slip rubber feet that keep it firmly in place.
Puzzles & Brain Games
Puzzles and brain games are an absolute must in helping with cognitive health and keeping the brain active.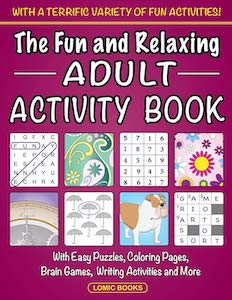 These activities can range from putting together puzzles they enjoy to picture puzzles where they find what is missing from two pictures. They also have logic games, crossword puzzles, word search games and sudoku, which my father-in-law loved doing when he lives with us.
I would have to say that these puzzles & brain games are not only gifts you give just to give but these will help your loved one throughout the year. Keeping their mind active and having to use their brain all the time helps in so many way.
Coloring Books
Gift the senior in your life something they enjoy doing…coloring! I mean, think about it, when we were younger we use to love to color.
Well maybe not all of us, but if you do have a senior in your life that you just can't figure out what to buy them but you know they love art work and coloring then this is a great gift idea.
With it's extra large print, it is easy to see and color in between the lines, only if you want to though. 🙂
Choose from coloring books with flowers, birds, simple designs or even the different seasons. Whatever coloring book you decide on, I am sure your loved one is going to enjoy spending time creating a beautiful masterpiece.
Oh, but don't forget the crayons or color pencils if you are getting this for them. 😉
Unique Gifts for Grandparents
Letters to my Grandchild
This gift idea was actually on Oprah's Favorite Things Pick back in 2015. I think it's still a great gift idea for every year.
Being a Grandma is one of the greatest blessings! To share stories of generations past and being able to write them down to live on long after you're gone is priceless!
Oh how I wish these were around when my grandma or even great-grandma was around. I do have journals that my mom wrote that are a treasured possession of mine but to hear stories from way back when would have been neat to read.
The older generation love to write and they still write even through the pain so what better things to write than their history. Think of it as a time capsule that will be treasured for lifetimes to come.
Memories for My Grandchild Memory Book
I know that each one of us at some point in our lives has said, "I wish I knew my family history." Well, for those of you that still have grandparents around, this gift right here has to be the most treasured gift you'll give.
This is not only a wonderful gift idea for your grandparents but think of the generations that will have this treasure trove of family memories for years to come.
With guided questions and prompts this helps grandparents tell their grandchildren and great-grandchildren all about their childhood, teen years and adult years.
Here is an excerpt of one of the book reviews that says it best, "The questions are thought-provoking and there are appropriate amounts of lines on which to answer. There are little birds and twigs on some pages giving each a playful, kind feeling. Some questions throughout the book are: What was your favorite home-cooked food? How did your parents discipline you if you did something wrong? As a child/teenager/adult, what were your favorite books, magazines, movies, stars, etc? Any special holiday or vacation recollections?"
Gift Ideas for Seniors with Dementia or Alzheimers
Memory Loss Digital Calendar
Not only are these digital calendars wonderful for spelling out the day of the week, the time, the morning or the afternoon, and date but they are wonderful for the visually impaired senior as well.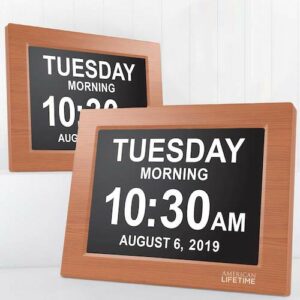 From the moment your loved one wakes up in the morning, they will not have to question or ask what time of day it is, what time is it, what day of the week or the date, they will already know from this calendar.
This is one of the most popular presents purchased for the elderly with dementia or Alzheimers.
I love the fact that the words Dementia, Alzheimer's and Memory Loss are intentionally excluded from the packaging, making it an even better gift idea.
Don't take it from me, read what one reviewer who bought it for her elderly loved one had to say about it, "She commented so positively on all of the features after having it for a day, and she especially liked being able to see the words "morning" "afternoon" "evening". From what she said, I would recommend getting a clock with ALL of the information that is displayed on this one. If you think about it, when a person wakes up from an afternoon nap, they may not remember if it is morning or afternoon. And in my experience, some people with memory loss no longer recognize the terms "AM" and "PM"
Fidget/Sensory/Therapy Blanket
It might be hard to believe there is something that can keep your loved one occupied for hours.
But it's true!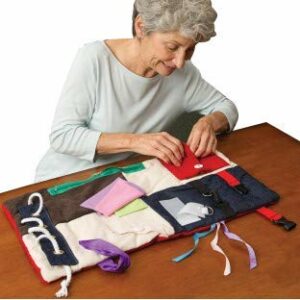 A fidget blanket also known as a sensory blanket or even pillow can be a soothing solution to the anxiety and restlessness that comes with Alzheimer's, dementia, and other similar conditions.
Fidget/ Sensory blankets also help distract from worrisome self-harming behaviors.
Keeping their hands busy actually helps to reduce loneliness.
With this gift they will be able to keep their hands busy, zipping, buckling, lacing, buttoning and clipping all sorts of items for hours.
Music Player
If you haven't had a chance to read my post titled Music Players for the Elderly with Dementia or Alzheimers, you'll definitely want to head over there now and read all about it.
I explain about these wonderful music players that are super easy to turn on and off, with adjustable volume control, and hours of your loved ones favorite music being played.
With only three controls, lift the lid to start the music playing, push the big button for the next song, and close the lid to stop the music, it's the perfect gift idea for the senior with dementia.
What about you? As the present giver are there any other gift ideas you want to share with the readers who are reading this?
I want to keep this list going and continue to add to it so if you have any ideas as the gift giver or the gift receiver I'd love to hear about them in the comments below.
Whatever gift you give to the senior in your life remember that the most precious gift of all is TIME! For we have so little of it that when we do give of our time it means the world.
Be Blessed,
Audrey & Dad