Hey there, out of curiosity have y'all started to see more and more people posting in groups anonymously and you're wondering how in the world they're doing it?
Well in this tutorial, I'm gonna show you how to post anonymously on Facebook inside of Groups.
Before we move on I want to let you know that in some groups you're not able to post anonymously because the admin of that group has not turned it on.
Now, maybe they don't want their members to be able to post anonymously or maybe they didn't realize that you could in fact flip the switch and allow your members to be able to post anonymously.
Whatever the case, I just wanted to let you know that not all groups give you this option. 
From your home page, choose the group that you would like to try and post anonymously in.
I've chosen a Keto group I'm a member of. You'll notice right away where it says, "Write something…" and underneath that it says, "Anonymous Post."
Click on that.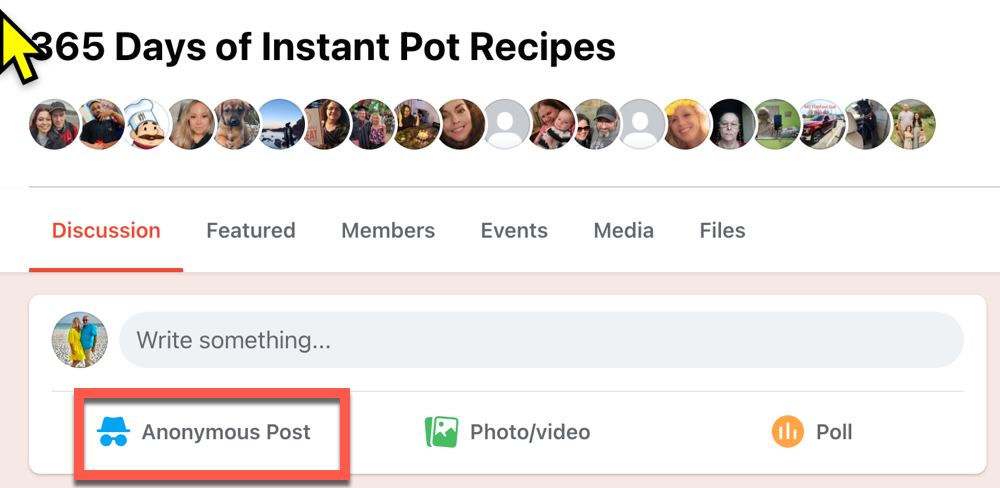 Next up is an explanation as to who can see your name and profile picture along with details about what could reveal your identity.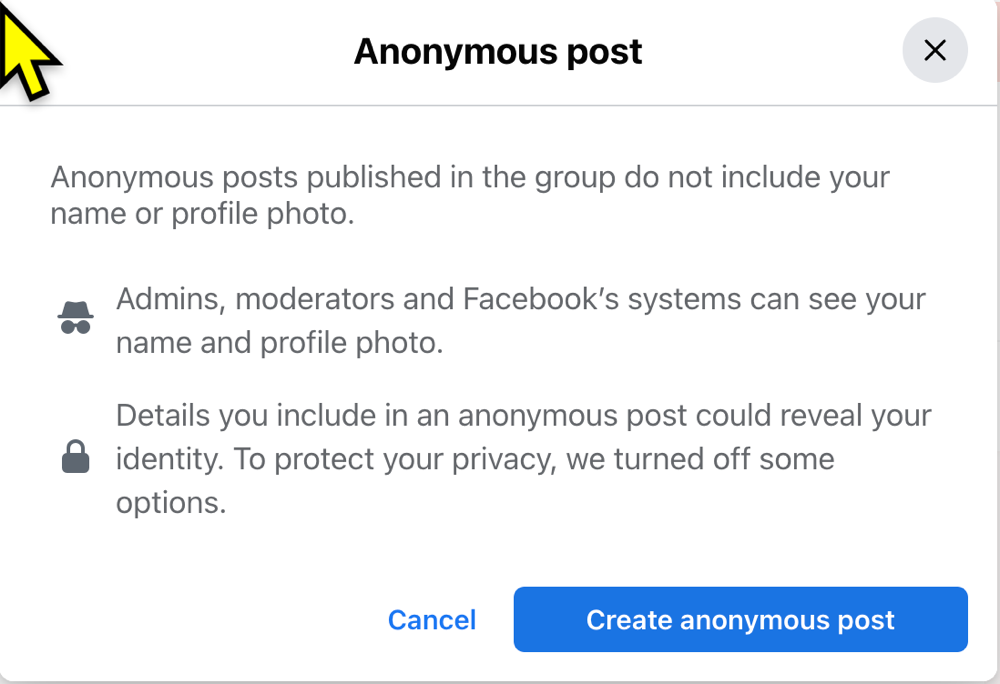 So admins will be able to see who posts it but everybody else within the group is not going to be able to see your name or even your profile picture. PLUS they WILL NOT be able to click on it to go to your profile.
Also, just letting you know that when you do post something and it doesn't show up right away, the group admin have to approve it before it will be posted within the group.
Of course, if you do reveal anything that might let people know who you are, then just be mindful of that as well.
Create your anonymous post and then hit the submit button.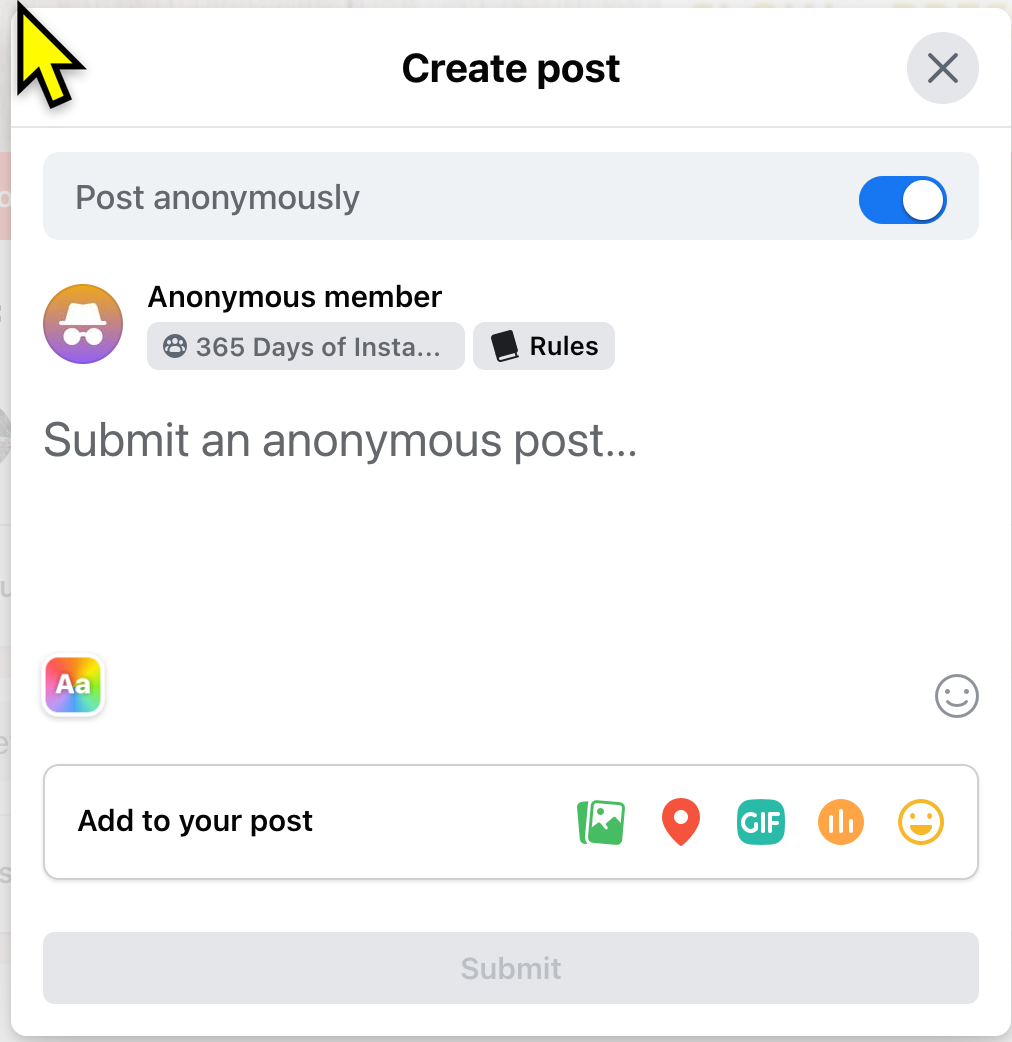 Alternatively, you could also click on the "Write something…" like you normally would and then above your name to the right you would want to click on this toggle switch as shown in the image below to make the post anonymous.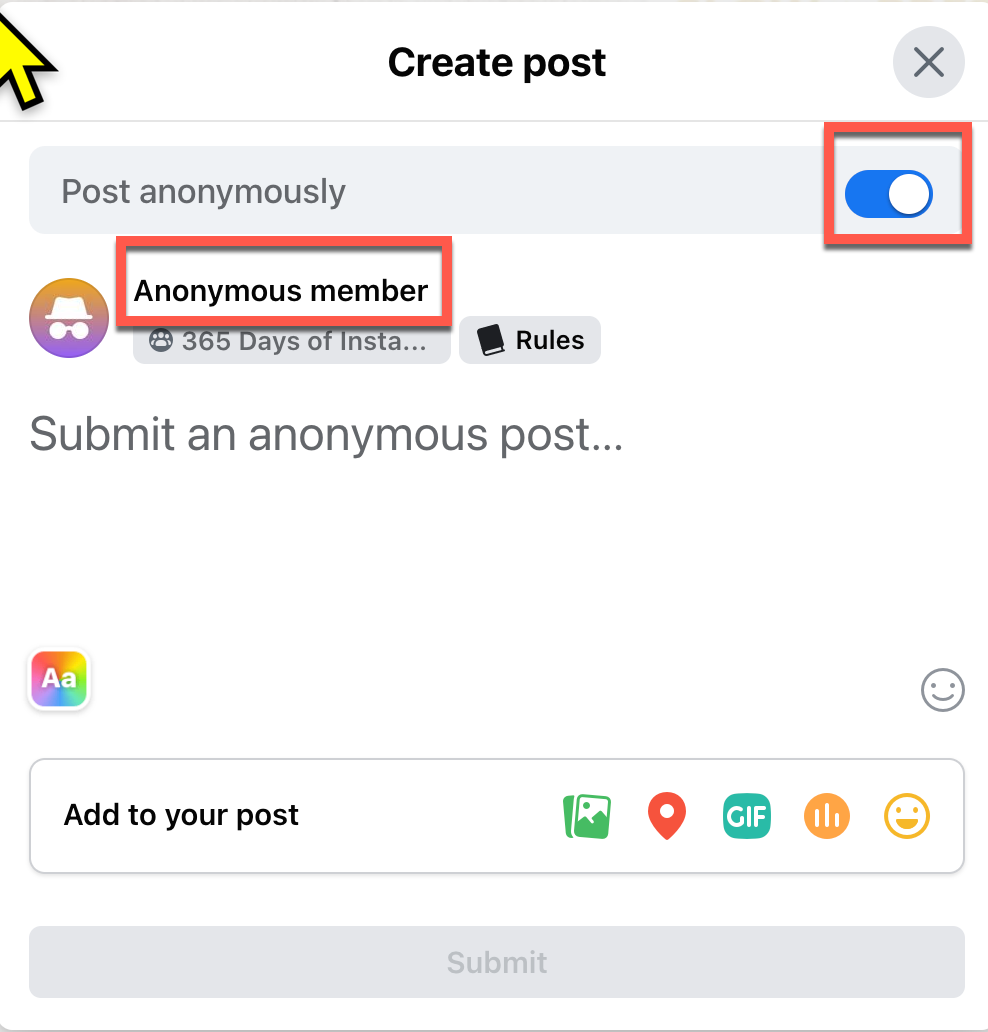 You'll notice that it changes it to this like kind of incognito logo as the profile and then it says anonymous member.
I did want to show you another group that I am a part of that doesn't say post anonymously.
And when I click "Write something…", you'll notice that it doesn't have the toggle switch.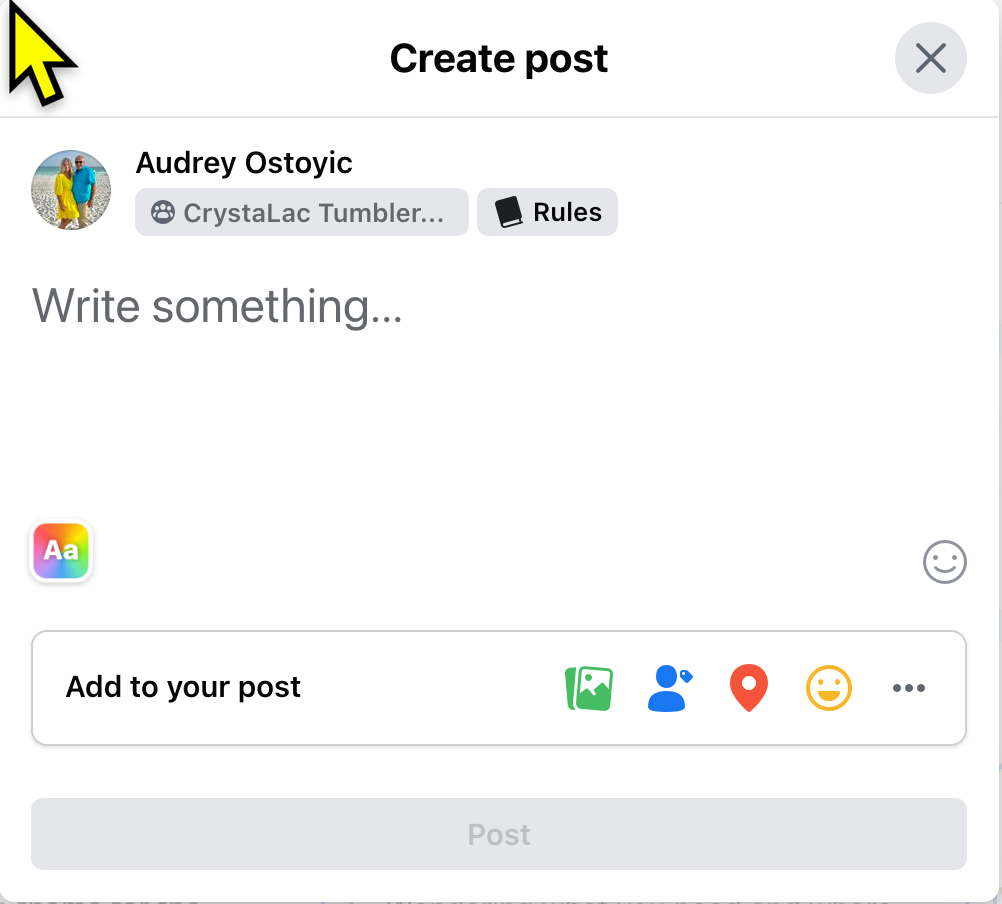 That just means that this group admin has not enabled the ability for you to be able to post anonymously.
Now, if that group does not have it enabled, you can always message them and ask them to enable it.
However, there are some groups that Facebook actually doesn't allow them to turn on the anonymous posting.
And so they might not be able to turn that on for you.
Okay, so that takes care of desktop.
New To Facebook?
Confused – Frustrated -Lost
Not anymore! Join our FREE Facebook Course and Community so that you can stay connected to family and friends
…without being overwhelmed 💕
Posting From Mobile Facebook app
Now let's jump into our Facebook app and let me show you how to do it there.
Once inside the group that you want to post anonymously you'll notice that you can post anonymously.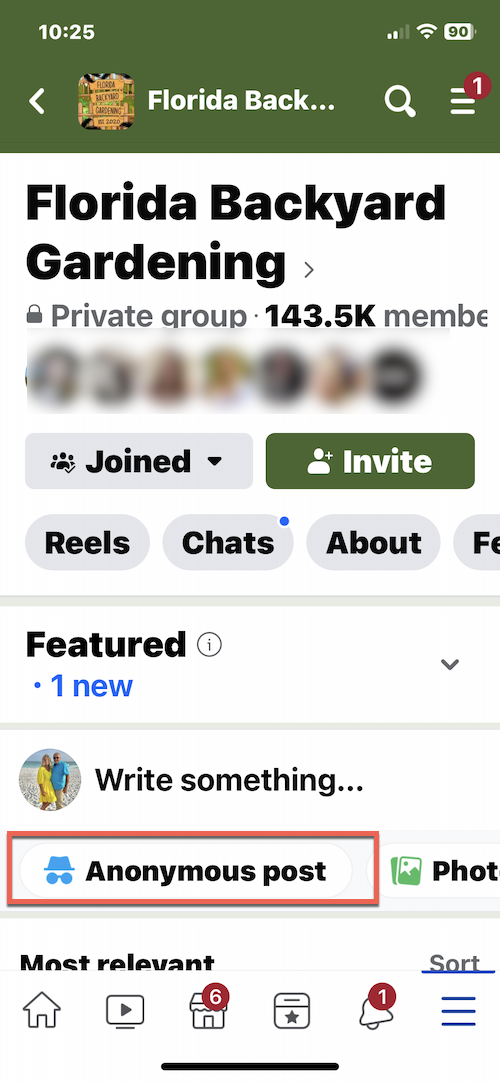 NOTE: Even if a group allows posting anonymously it might not have that little "Anonymous post button" you can click on under the "Write something…".
The image below is a group I'm a part of that does allow anonymous posting but you have to click within the box that says "Write something…" then it will give you the toggle option.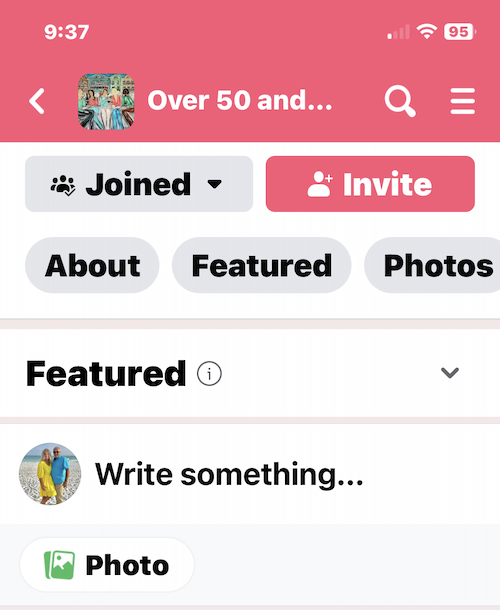 Let's just click "Write something…" and make sure that you have switched the toggle switch to green so that you can post anonymously.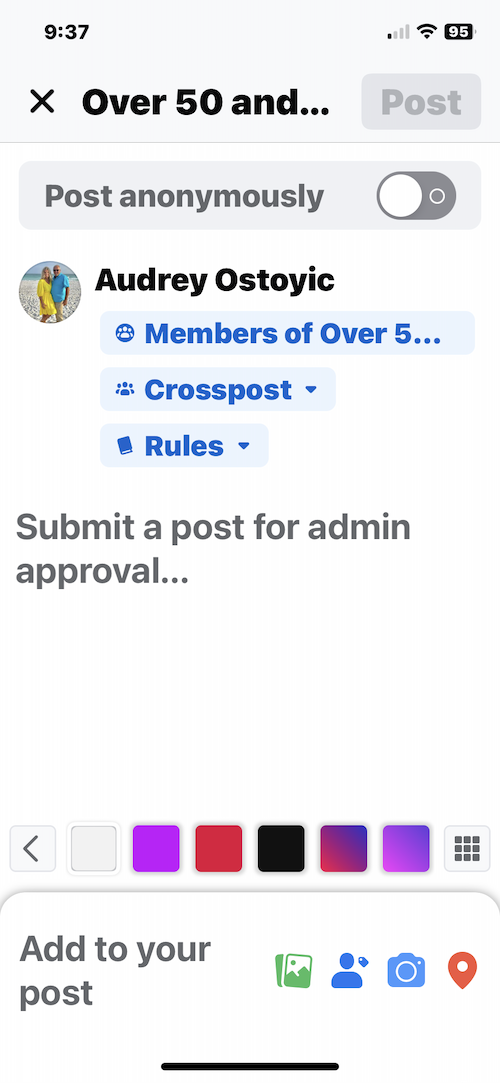 Keep in mind that the moderator and the admins are going to be able to see that you are the one who posted this and that it is not going to go live inside the group until it has been approved by the admin or the moderator.
That's it, create your post then submit it for approval. 
Be Blessed,
Audrey