How to Create a YouTube Playlist
Playlist allow you to save your favorite songs, videos, TV shows and movies into one place and have them play one right after another.
You're able to share these playlist with the public or keep them private just for you to view or listen to. You can also find other user's Playlist and listen to that if you want also.
In this video tutorial, you'll learn how to create your very own playlist or save other people's playlist and save time.
Two ways to do this.
If you don't already have a Playlist created you'll want to do this way FIRST:
Once you find a video that you want to add to a Playlist you'll…
Click on Add to
Create a new playlist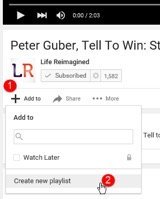 The second way is to create a Playlist then add videos to it.
Go the Menu at the top left and click on 'Playlists'.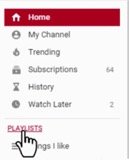 Click on 'New Playlist' and type in a title and select privacy settings.
Click on 'Create'.
Feel free to add a description if you would like, but this is optional.
You can add videos to the playlist by clicking 'Add Videos' or search for videos in the search bar.
You may find other Channel's Playlists in your search results.
You can save an entire Playlist if you would like, but if you only want to add one video to your Playlist, click on the video and then click on 'Add To' under the video, and select which Playlist you would like to add it to.
You can navigate back to your Playlists through the Menu and begin playing them.
Just Getting Started on YouTube?