Let's Get Your YouTube Account Created
As you may or may not know, you are able to watch videos on YouTube without having an account but you're missing out on some really great benefits.
For instance, you are able to subscribe (for FREE) to Channels on YouTube that you really like, so whenever they add a new video you'll be notified. In this video tutorial I'll walk you through the entire process of setting up your account on YouTube
Google owns YouTube, which means that if you already have a Google or Gmail account, you can use that login information to sign in to YouTube.
Let's go to www.youtube.com
Click on 'Sign In' at the top right of the page.

If you have an existing Google account, you will enter your information like username and password.
If you don't and need to create a new account, click on 'Create Account'.
Next screen, YouTube is asking you to fill in all your information like name, email address, creating a password and so on.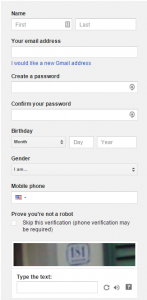 You can use any email account you already have if you would not like to create a Gmail account.
Create a secure password containing Upper & Lower case letters and number.
You may choose to add your cell phone number, which is handy if you happen to lose your password, you can safely recover it via a text message from Google. However, this is not necessary.
Finally, you will be required to enter a Verification to prove that you are not a robot.
If you have issues reading the verification code, you can always choose to hear it by clicking on the Speaker icon to the right of the input box.
Read and check the box agreeing to the Terms and Privacy Policy and click 'Next'!
Congratulations! You have created your own YouTube account.
Just Getting Started on YouTube?