How to Send a Photo Through Skype
Being able to share photos of the kids, grandchildren or your dream vacation with family and friends is priceless. Being able to share those photos instantly with your loved ones while being half way across the world is even better.
In order to send a photo to a contact, you'll first want to locate and tap on the name of the person you want to send an image to, on the left-hand side of your screen.
You should see the conversation between you two on the right. At the bottom of your conversation you'll see a paper clip icon, click on that and then you'll see the following icons. Click on the icon furthest to the left (circled in the picture below)

Skype will open up the folders on your computer where you can find the image you want to send. Click on the image then click on Open.
(NOTE: As soon as you Click on Open, Skype will automatically send that image to the person you chose)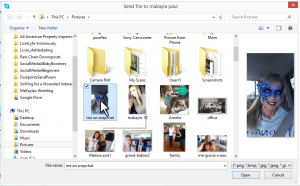 In order to receive images from a contact, there is nothing you have to do. They will go through the same steps above and it will appear in your conversations.
Just Getting Started on Skype?