How to Change Your Skype Profile Picture
I can't tell you how many times I have requested the wrong contact on Skype because the person I was looking for did not add their profile picture.
On Skype, each of us have the option to show the details of where we live or not and when a friend or family member does not share that information, coupled with not having a photo, you are bound to send a request to the wrong person.
In this video tutorial, I walk you through how you can upload a picture of yourself or at least a picture that your friends and family will recognize as your personality.
Adding your profile picture to Skype is a great way for family and friends to know that they are connecting with the right person and its super simple to do!
Click on your photo located to the left of your Skype account.
(NOTE: If you do not have a profile picture yet then you should have a blue circle with a white silhouette of a person inside it)
Once you click on your picture this next screen will appear. Click on Change picture (located under your photo).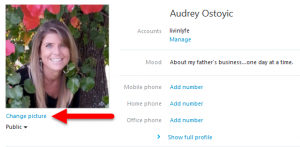 Now don't be surprised if you see a picture of yourself, if you have a camera on your computer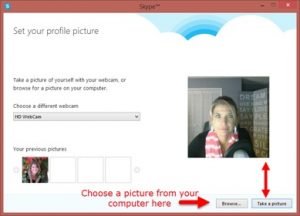 You can choose any previous picture you may have used in the past or click on the Browse button to choose a picture from your computer or you can take a picture if you have a camera on your computer.