What is Pinterest and How to Use it
This handy dandy Social Media site gives you the ability to save all the things that interest you in one place. You'll be able to quickly get to all the things you found interesting on all the different websites.
What Exactly is Pinterest?
Pinterest is an online platform where you can pin or organize those things that Interest you.
Get it? Pinterest
Back in the day, you would tear out pages from magazines of recipes, organizational tips, decorating ideas and put them in a place you could quickly get back to.
Much like my mom used to have in this three-ring binder that I got when she passed away.
Just look at all the clippings from the magazine she had.
It was organized by:
Collectors Cook Book Inserts
Money-Saving Monthly Menus
Creative Low-Calorie Cooking
Cheesecakes and Pies
Jello Molds Salads
All Kinds of Christmas Goodies
She had hundreds of magazine articles dating back to 1972 that she had cut out and organized in this book. She was such an amazing organizational Mom.
Fast forward some 47 years later and you now have Pinterest.
Imagine coming across a recipe that you would like to try but you'll need to save it because you're not in a position to write down or print out the recipe.
You can now save it to what Pinterest calls "boards" and quickly get back to it when you need it.
Pinterest Boards?
These boards are much like how my mom organized her book. Let's say you have a board named "Crock Pot Recipes" and every time you come across a crockpot recipe online you'll add that to your board and it will be there for you when you need it.
Another way to look at these boards is by thinking back in the day when we had cork boards. Do you know how you would pin things to your cork board? Well, this is just like Pinterest. Just think of these boards as your cork-boards but they are categorized the way that YOU want them to be.
You can see in the image below that I have 4 Boards – Creative Advertising, Cricut Explore Ideas, Crock Post Recipes, and Cucumber.
Whenever I find something online that I want to be able to get back to quickly, I'll add it the appropriate board.
What is a Pinterest Pin?
A Pin is basically a picture or video that links back to a website that you found and wanted to save. So let's say you found an article that gave you great tips on investing your retirement money, you might have a board you created called "Investing" and you would "Pin" that article to your board.
This way, when you are ready to read it or take the advice it gives you, you'll be able to find it easily.
As you can see below, these pins have been added to my board Crock Pot Recipes.
If I wanted to make let's say the Slow Cooker Buffalo Chicken Chili, I would just click on that pin and then click on the image again and I would be brought right back to the website where I found this recipe in the first place.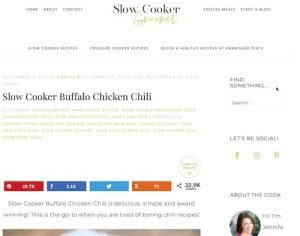 Are you getting excited yet??
Just think of all the wonderful things you are interested in and have always wanted to have a place to save it all too and now you can.
Most Popular Board Names on Pinterest
For the Home
My Style
Products I Love
Books Worth Reading
Food
Favorite Places & Spaces
Recipes
Craft Ideas
Christmas
Crafts
Can you just imagine the pins (photos and videos) from around the web you could organize just within these boards?
The possibilities are endless so go ahead and just let your imagination run wild.
One last thing…Pinterest users spend an average of about 89 minutes per visit. Just be prepared to be sucked in and spend some time on the site.